Building a DIY fence is a great way to save money and whether you want vinyl, aluminum, wood, or chain link fencing, we have some great DIY tips in this article. Mr. Fence of Florida has the knowledge and professional fence materials that you can get directly from us so that you can successfully install your own fence! Read on to find out how.
Determine Your Needs
The first step before you install a new fence is to ask yourself what purpose your fence will serve. If it's strictly utilitarian like keeping your kids or dog in the yard, you can get by with a basic chain link fence. If you're looking to increase privacy or lessen noise, you will want something tall and solid like wood or vinyl fencing in Panama City. Chances are your fence may need to meet several needs. You want to protect your family and pets, but you also need a pool fence and want to add a decorative element to your home's exterior, In this case, an aluminum fence will fit the bill.
Whatever its purpose, a fence can function in many ways, but the first step is deciding what you're looking for to choose one that works for you.
Measure and Design
A great way to start the process of designing your fence is to use our Instant Fence Estimator. Our estimator utilizes Google Maps to give you the ability to find your property and provides you with an aerial, birdseye view. There is a drawing tool that allows you to easily design a fence right onto the map image of your property and you can also add gates during the design process. Just drag the fence perimeter lines onto the image and it will draw your fence where you want it. Pick your material and it will give you an estimate of how much your fence will cost.
You'll want to ensure that you prepare and complete all of the pre-installation steps before you order your fence materials. Here are some very important items to keep in mind:
Be sure to get accurate measurements by marking and measuring your yard. You'll want to make sure that you reference your property survey to identify the boundaries of your property and mark them clearly.

Locate underground utilities by calling 811 to submit a request. Underground utility lines will affect where your fence posts can be placed. 

Research local zoning codes and restrictions. Some cities and neighborhoods have restrictions on fencing.

Check for obstructions on your property that may encroach on your fence line.

Check where the frost line is in your area so that your fence posts are set at the proper depth.
Choose Professional Grade Materials
Mr. Fence of Florida only uses professional-grade materials from the most respected manufacturers in the industry. That means that you can also be sure to use the best, professional-grade materials for your own DIY fence installation by purchasing your materials from us!  No need to use second-rate materials from the big box stores. Considering the time and effort you'll spend installing your own fence, you'll want it to be as durable and long-lasting as possible!
We can order many professional-grade lines of vinyl and aluminum products from our distributors for your DIY project and we often have the more popular styles already on hand. Just be sure to check with us to ensure the style you choose is readily available as some styles take longer than others to receive.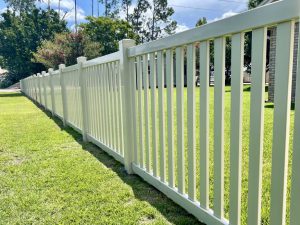 Vinyl Fencing Panama City
A great place to start when choosing the style of vinyl fencing in Panama City for your DIY project is on our vinyl fence page. If you want a great privacy fence for your home, a classic picket-style look, or a semi-private fence, then vinyl fencing in Panama City is the perfect solution! There are so many benefits to using vinyl for your fence including:
Low maintenance:  Vinyl fencing doesn't require any routine maintenance like staining, painting, or sealing and can be quickly cleaned up with a rinse from the hose. A sudsy bucket of water and a sponge can clean off any tougher areas.
Strong and Long-lasting: Vinyl fencing lasts much longer than wood and withstands the harsh weather of the Panama City, Massachusetts area very well.
Durability: Vinyl fencing will not rot, fade, or warp, and it's also impervious to insect damage.
Security: Vinyl fencing is a great option to deter would-be trespassers and it's hard to climb the smooth surface of a solid vinyl privacy fence so a burglar is sure to move on before trying.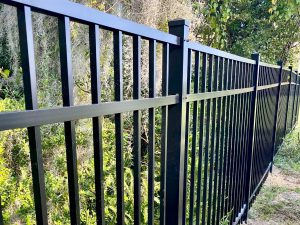 Aluminum Fencing Materials in Florida
The distinctly elegant look of aluminum makes it another popular choice for fencing for the DIYer.  Visit our aluminum fence page for a look at what you can achieve with a gorgeous aluminum fence. Aluminum fencing is a top choice for residential fencing for a variety of reasons:
Curb Appeal: An aluminum fence will complement a property's architecture and landscape design and provide a beautiful look to any home.
Low-maintenance: Aluminum fencing is also a very low-maintenance material that requires no sealing or painting and can be easily cleaned with a garden hose.
Strength and Durability: Aluminum fence panels are lightweight for easy installation but are very durable and stand up to Florida weather conditions.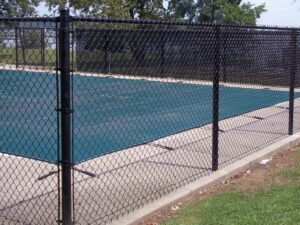 Chain Link Fencing in Florida
The relatively inexpensive nature of chain link combined with its durability makes chain link a popular choice for fencing in Panama City and the surrounding area. It may not be the "prettiest" fence there is, but it definitely has many benefits:
Longevity: Modern chain link fences are made from galvanized steel and can last up to 20 years.
Budget-Friendly: Chain Link fencing is more affordable than other types of fencing materials.
PVC Coating Option: While chain link isn't known for its curb appeal, you can choose to have it coated with protective PVC in black to give it an upgraded look as well as increase the longevity of your fence.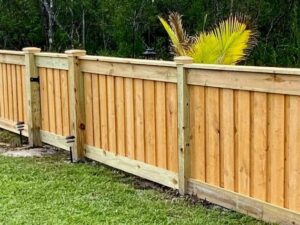 Wood Fencing for Panama City Properties
Wood fencing is another popular choice for properties across Panama City and the surrounding regions. Its all-natural beauty and strong material looks great and stands strong in both privacy and picket designs.
Beautiful: Wood fencing is often chosen due to its natural wood look that can be painted or stained to almost any color you can imagine!
Economical: Often, wood fencing is one of the lowest-cost fence materials up front and is an easy type of material to adjust to any space.
Great for Privacy: If you desire privacy, wood fencing is a perfect solution for tall, full-privacy fencing that is stylish as well as strong.
Tools Needed and Installation Guidance
Installing your own fence can be a fun and rewarding experience. Before you get started, let the pros at Mr. Fence of Florida provide you with the expert support you need to succeed by contacting us about best practices and installation tips. 
Tools You'll Need
Torpedo Level

Circular Saw

Ready Mix Concrete (1½ Bags per Post)

Post Hole Digger

Digging/Tamping Bar

Stakes and String

Tape Measure
Certain styles require additional tools, so please consult with a Mr. Fence of Florida expert for advice.
Overall, if you're someone who has some extra time on their hands, has experience with woodworking or construction, and has a few friends who can help out, you'd be a good candidate for installing a fence on your own.
If you're inexperienced with such things, short on time, and want to have a fence installed quickly by a team of professionals, consider hiring Mr. Fence of Florida to do it for you. We'd love to provide you with the fence you need!
Mr. Fence of Florida is Here to Get You Started on Your DIY Fence Project!
You can count on a reliable Florida fence company like Mr. Fence of Florida to help you with self-installing your fence. Stop by our showroom to talk to our fence professionals. We are happy to help you with any questions you may have and you can also call us at (850) 604-0900 or contact us online for fast, friendly service!