A great way to define your property without incurring high costs.
Differing from privacy fences, Wood Ranch Rail fences provide visibility through the fence, while creating a visible boundary for your property. A Wood Ranch Rail fence has horizontal rails connected by vertical posts. The rails used for Ranch Rail fences are smooth or rough-cut rectangular planks of wood.
Wood Ranch Rail fencing is a great option for larger lots in the Panama City, Florida area for those who want to create a fence line around their property. Available in 2-rail up to 5-rail in both wood and vinyl options, the 2-rail is a good choice for road frontage fence because it creates a defined space without interfering with the view from the front of the home. Ranch Rail fence posts may be round or square. It is common to nail the wood to provide a more finished look to your property. Ranch Rail fences are commonly used along yards, farms, neighborhoods, commercial properties, walkways and other property boundaries simply for the fact that it offers a clean and sophisticated look. Welded wire is also available as an add-on to Ranch Rail wood fencing and is a great option when you are trying to keep in small pets while maintaining the clean look that ranch rail fencing provides.
Instant

Fence Quote

With our Free Fence Estimator Tool, it is easy to compare different configurations, options, and styles. Get an instant price quote to help you decide which option is right for you!
a closer look
Professional-Grade

Features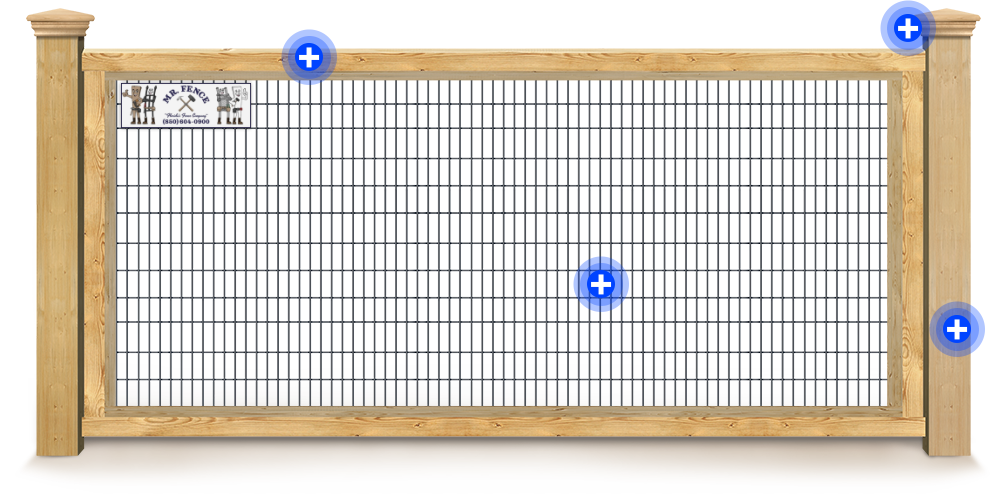 Decorative Post Cap
Most people prefer the finished look of our decorative post caps with this style of wood fence.
Durable Wire Mesh
Our Ranch Rail style wood fences come with and without mesh - depending on your needs and preference. Our wire mesh is strong and resistant to corrosion.
premium grade wood rails
As with our pickets, we use only high-quality wood rails. The higher-quality rails means that our fences are stronger and last longer than discount fence companies or cheap big box store wood fences.
premium grade wood posts
Premium grade posts are a critical aspect of a great fence! Our posts aren't warped or cracked or heavily knotted - each of which negatively impacts the strength and longevity of your fence! Our posts are the highest grade wood available, ensuring years of strength and beauty.
Because every wood fencing project is unique, we do not give flat pricing per foot. Instead, to make sure we provide you with exactly what you need for your Panama City, Florida property, our pricing is determined by an in-person quote from one of our experienced sales team who will contact you directly, come to your property, and make all of the measurements correctly. After this, you can expect to receive a quote usually within 24 hours of the appointment.
Yes! All of our Color Pro wood fence pickets automatically come with a 2-year color and 10-year rot, decay & termite warranty — the best warranty on wood fencing you can find in the Panama City area and beyond!
Color Pro pre-stained wood fence pickets are manufactured by Pine River Group, a family owned and operated company in Michigan. Their lumber is sustainably sourced from hand-selected cuts of southern yellow pine material and is a great product we use for many satisfied customers all across Florida.
All of our wood fencing gate hardware is made from stainless steel and powder-coated to minimize rusting while maintaining a beautiful appearance for many Panama City properties. It is specifically designed to stand up to the Florida elements of the outdoors and last the lifetime of your fence.
Whether you install a wood privacy fence, split rail or picket fence, it will enhance your Florida property's appearance and security. All of these wood fences typically will last about 15 years. By using proper maintenance, you can extend the life of your wood fence to 20 years or more.
The best thing to do to protect your wood fence in the Panama City area is to apply a wood preservative that will seal it and prevent rot in the Florida climate. Similar to applying wax to a car, the preservative will help protect your fence from harsh weather and too much moisture that can happen from humidity or even sprinkler systems.
The most important part of the wood fence that should be treated are the fence posts. Pressure treated wood fence posts help prevent rot underground from the constant contact with the moisture and insects in the Florida soil. Having a protective treatment on all of the wood for your fence will also help it resist decay and rot and extend the life of your wood fence.
Wood Fence
FAQs
Have questions? Get the dirt on wood fences here.