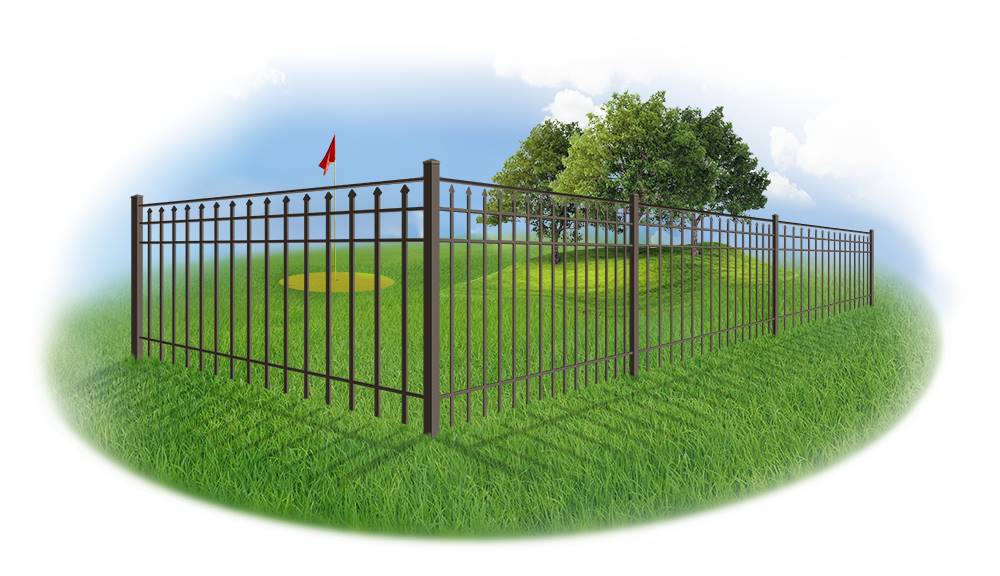 The ultimate in elegance and style for your Panama City property.
When purchasing an aluminum aence from Mr. Fence of Florida, we back your investment with a lifetime warranty, against rust, defects in workmanship, as well as cracks, chipping, and peeling. The finish on our Olympus aluminum provides a high-quality, long-lasting finish that is tested to withstand 3,000 hours of salt spray and high levels of humidity perfect for coastal climates. Gates are built to match every fence design with the option of an arched entry. Our Thebes Aluminum Fence provides the strength and beauty to last a lifetime. With the 5/8" picket, Thebes Aluminum Fence is ideal for most residential properties, and some commercial properties. Florida Homeowners are huge fans of our aluminum fences because they never have to worry about maintaining the appearance of their fence, which saves time and money. The detail on the Thebes Aluminum Fence is similar to our Corinth and Rhodes. If you were to put those two together, you will have our Thebes Aluminum Fence.
Instant

Fence Quote

With our Free Fence Estimator Tool, it is easy to compare different configurations, options, and styles. Get an instant price quote to help you decide which option is right for you!
a closer look
Professional-Grade

Features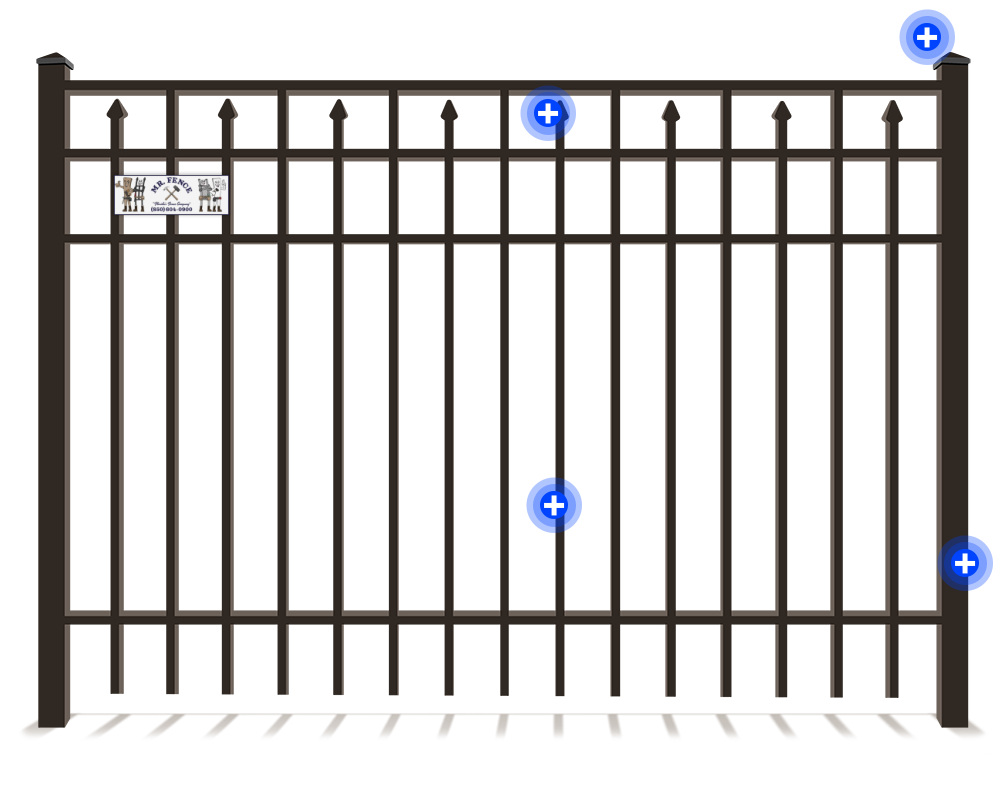 Our post caps come in a variety of different styles to give your fence that custom look. Available in black, white and bronze post caps can add the extra curb appeal that you are looking for and will give your fence a custom look! Our post caps are heavy duty and come with a lifetime warranty!
Our fence rails are a standard 1 (.060" side wall) x 1" (.055" top wall) and are made with an exclusive HS-35 Aluminum alloy. We back all of our aluminum fences with a lifetime warranty, so you can be assured to know your new fence will remain rust and scratch resistant.
Our aluminum pickets are thicker and stronger than most aluminum fence options on the market. Our fence pickets are a standard 5/8 with a .050 wall thickness! Like our rails, our pickets are also made with an exclusive HS-35 aluminum alloy and are backed with a lifetime warranty. This quality ensures your fence will survive the challenging weather that is so common in the Panama City, Florida region.
Like our rails and pickets, our posts are also made with an exclusive HS-35 aluminum alloy and are backed with a lifetime warranty.
Our post options allow for you to really customize the look and overall curb appeal of your project. The fence post and its overall strength directly attribute to the lifespan and durability of your fence, we offer fence posts in a variety of sizes.
2" sq. x .060" wall (standard) or .125" wall
2.5" sq. x .075" wall or .125" wall
3" sq. x .090" wall or .125" wall
4" sq. x .125" wall
Learn More About our Top-Quality Aluminum Fences
If you are looking for an elegant, maintenance-free fence that allows for a great view beyond your yard, our aluminum powder coated fences provide maximum protection against rust, scratches, corrosion and color fading. Our aluminum pickets, rails and post caps are thicker and stronger than most aluminum fence options on the market, and are all backed with a lifetime warranty. For a custom look, we have many post cap options. Customize your fence with decorative post caps for the curb appeal you're looking for.
Aluminum fencing comes in many different heights and lengths across the Panama City, Florida area. Most styles of aluminum fence come anywhere from 4 feet tall up to 8 feet. Height options we have for residential aluminum fences are 48", 54", 57", 60", and 72". Aluminum fence section lengths also vary depending on the style. Our fence experts can help you choose the right size for your situation by also ensuring that you are in compliance with all local codes.
Yes, we can certainly show you which aluminum fence options will be able to meet your local pool codes in Panama City and surrounding towns. Some of the specifications include a 54" height for all gate latches and usually must be at least 4 feet tall. If you like the 2-rail or 3-rail aluminum fences, you must have 46" between the bottom rail and the middle rail to prevent children from climbing over it. We will be glad to help you choose an aluminum fence that works best for your pool area.
Aluminum fencing is an easy material to maintain. The aluminum will not rust, so using water and regular household cleaning products will keep it in good condition for many years. If you notice any stains, you can also simply use warm water and gentle dish soap to clean it off. Our Panama City customers are often glad they chose aluminum fencing weather for their home or business property.
No, we offer multiple styles of aluminum fencing for our Florida customers. Check out our aluminum fence page for more details on the variety that is available, or call our office and speak to one of our fence experts who will be happy to discuss all options with you.
On average, aluminum fencing in Florida will last up to 20 years. We use Jerith Aluminum fence for many of our aluminum fence supplies. As a leading manufacturer of quality fence products, Jerith Manufacturing Co., Inc. warrants that the FencCoat™ finish on its aluminum fences will not peel, crack, chip, or blister for as long as you own the product. Jerith also warrants that its aluminum fences will be free from defects in workmanship and materials for the same period, and they will never rust.
Aluminum fencing is the best choice for a strong protective border that lasts in the Panama City region. With features like low-maintenance and styles that work in nearly any situation, aluminum fences can be the perfect choice for your property needs.
No question! Our aluminum fencing material provides high-quality, long-lasting finish that is tested to withstand 3,000 hours of salt spray and high levels of humidity. It is a perfect choice for the coastal climates of Florida and all around Panama City.
Aluminum Fence
FAQs
Have questions? Get the dirt on aluminum fences here.